Playing online poker for free at PokerStars
Once you have downloaded the software of PokerStars and opened an account you will be able to play online poker for free. This short guide to playing free poker games at PokerStars is meant to show you where you can find the free or 'play money' games and freerolls on PokerStars and it will give you some additional information about these games.
Why play PokerStars' free poker games?
Playing online poker for free allows you to learn the game and become familiar with the PokerStars software without having to worry about losing any cash. Some might say that, because there is no money at stake, people play different in these free poker games from how they would play otherwise and that therefore the educational value of these free poker games is very limited. Although your opponents at the play money games will indeed play a very loose, maybe even a crazy style of poker, they are still a very valuable and cheap learning ground as long as you don't play very different because no money is at stake yourself. You'll get to know the software, and you'll learn how to beat these loose and crazy players (which you'll encounter in real money games also, although less often).
While playing poker for free you can learn the rules of poker, learn poker hand rankings and maybe even start reading about some basic poker strategy. You can practice for a home game with your friends or make yourself ready for playing real money games later. But above all, you can have fun in these games and won't cost you a single dollar.
PokerStars free poker ring games
The free poker games at PokerStars are all the tables that begin with 'Fun' in their name and are colored black instead of green in the lobby. For free hold'em games there even is a special tab called 'Play Money':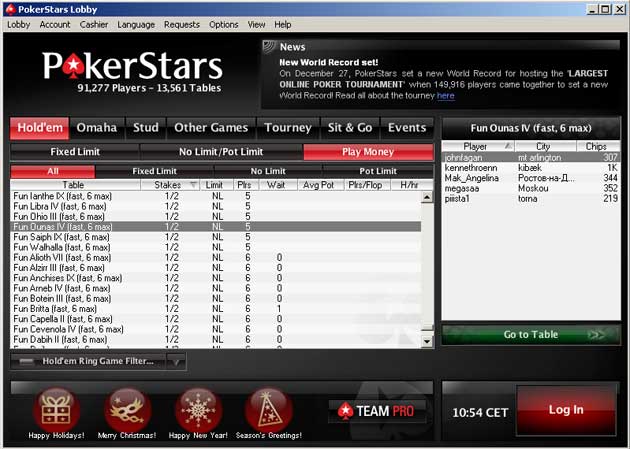 When you want to sit down at a table to play poker for free then there are several options. In the screenshot above one table is highlighted (in gray): table 'Fun Ounas IV'. The (fast, 6 max) tells you that this is a fast table (giving you less time to make your decisions) and a 6 max table (not more than 6 players can be seated at the same time at this table, other options would 9 player or 2 player tables) with a small blind of 1 and a big blind of 2 (stakes 1/2). Because the lobby tells you that there are only 5 players seated (plrs 5) you know that there has to be one seat left you can take. Double click the table and then click in the avatar circle that says 'seat open' (to be able to take a seat you have to be logged in to your account: read more about opening an account at PokerStars):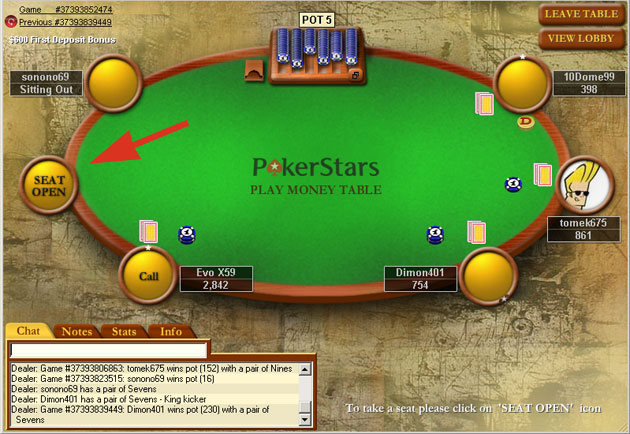 Once seated you're ready to play! You can reload your chip stack if you fall below a certain amount of chips by clicking the tray with all the blue chips in the top-middle of the table and then choose 'Add more chips'. This way you will never run out of chips!
Free poker tournaments and freerolls at PokerStars
Just like you can find free poker ring games like the one above you can also find free tournaments and freerolls. Freerolls are free tournaments with real money prizes.
Under the 'Tourney' tab in the main lobby for example you can find the 'daily astronomer freerolls' (Hubble's, Kepler's, Tombaugh's, etc. freeroll). These tournaments are scheduled: they take place on a predetermined moment. The daily astronomer freerolls award tickets to the weekly round two freeroll where you can win real money prizes. The chance of actually winning real money via this route is very small though, because the player fields of these freerolls are huge (6000+) while only very few places (72) are awarded with a ticket to the round two freeroll.
Under the Sit & Go tab you can find other free poker tournaments (Sit & Go's) under the 'Play Money' tab. Sit & Go's are tournaments which start as soon as the predetermined number of entrants has been reached.
Try them out and find out which games suit you the most! And once you feel you can comfortably beat the free poker games you could try to start beating the low stakes real money games after making a small deposit.
Further reading at First Time Poker Player: