Depositing at PokerStars and playing for real money
I have to admit that as a first time depositor at an online poker room I was kind of nervous about the whole process. After all, it was 'just some poker room' I trusted with my money. But after the first deposit went well, many more followed (also at other online poker rooms) and never have I experienced any problems. In fact, I'm now more nervous about making a purchase at online web shops than I am about depositing at an online poker room. This is certainly true for depositing at PokerStars which, as you may have noticed by now, is not 'just an online poker room'. It's a brand with a high reputation when it comes to safety and reliability.
Making a PokerStars deposit
Making a real money deposit at PokerStars is very easy, because they offer a wide variety of deposit options so that there will always be an option that suits you. Recommended PokerStars deposit options are:
eChecks
An eCheck is an electronic check. This deposit method allows you to transfer funds in a safe and secure way directly from your bank account to your PokerStars account. This deposit option is the recommended method for residents from the USA.

E-wallets
An e-wallet is an online wallet which you can fund from your bank account and with which you can send money to your PokerStars account and many other merchants. Widely used e-wallets for poker are Neteller and Moneybookers. With e-wallet deposits your funds will appear in your poker account instantly. These e-wallets also are an easy and quick (1-3 days) withdrawal method. Residents from the USA unfortunately can't use e-wallets as a deposit method. Read more about the e-wallets Neteller and Moneybookers.

Credit/debit cards
Deposits with credit cards are also instantly available in your PokerStars account. Not all the different credit cards allow you to also cash out though. With MasterCard for example you will only be able to deposit, whereas with VISA-cards you can make both deposits and withdrawals.
You can make a deposit when you are logged into your account by going to the cashier and clicking on 'Buy Chips' (if you haven't opened an account yet, you can read more about how to download PokerStars and open an account):

Now you can choose your preferred deposit option. (The image below does not show all the available deposit options.)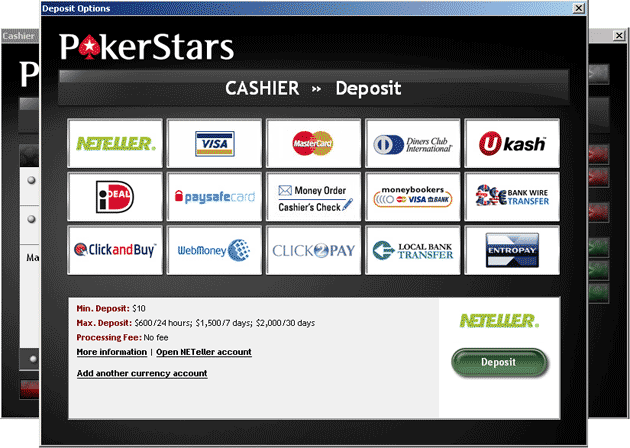 The next screen you will be asked to enter an amount you want to deposit as well as some information about card or account numbers. Once you have done that you can also fill in the bonus code 'STARS600' in the corresponding field to receive a bonus amount that matches your first deposit up to $600. Read more about this bonus in the next section.
If you've completed these steps and everything went well then at this point you should see a balance in the cashier screen (or within several minutes) and be able to play real money poker games at PokerStars, congratulations!
If things don't happen to work as flawlessly as this tutorial made you believe they would then you can always ask for help from PokerStars' deposit assistance department by sending an e-mail to dad@pokerstars.com.
About the PokerStars first deposit bonus
Currently everyone who makes a first PokerStars deposit and enters bonus code 'STARS600' in the bonus code field will get a 100% up to $600 bonus. This means that 100% of your first deposit will be matched up to a maximum amount of 600 bonus dollars. These 'bonus dollars' will be converted to real money in your PokerStars account by collecting VPP's; the player points you earn by playing real money poker games.
What makes this bonus unique is that you don't have to deposit $600 with your first deposit to take full advantage of your bonus. You can make a total of three qualifying deposits within 90 days, entering the PokerStars bonus code 'STARS600' on all three these deposits. This way you can start with a small deposit, see if you like playing on PokerStars and as soon as you've fully cleared this part of the bonus by playing for real money you can make another deposit to receive some more.
The bonus is released as real money into your PokerStars account in increments of $10 for every 170 player points you have earned. You can earn 5.5 VPP's for every $1 you pay in rake when buying in for tournaments (the rake is the amount after the +) and 5.5 or 6 VPP's per $1 in rake (depending if you play shorthanded or full ring) will be divided among all the players who are dealt cards in cash games.
At the lowest stakes clearing the bonus won't go that quickly, but it will result in about 32% of your paid rake back into your account which is always nice. On top of that you can still spend the points you earned in PokerStars point store.
Becoming a PokerStar
Now you have started playing for real money I'm sure you're interested in never having to deposit again (unless it is to get some more of the first deposit bonus); in building your bankroll and moving up in stakes; in becoming a PokerStar yourself.
If so, then the articles on First Time Poker Player might be helpful to you. If I had to pick two of the most important articles that could help you to achieve the above goals then it would be the articles about bankroll management and poker strategy fundamentals. Have fun, play a lot, study hard and for the other part: good luck!
Previous articles from this series:
Further reading across the internet: