PokerStars download and account activation
This guide consisting of three articles will help you to start playing poker at PokerStars, the biggest poker room on the internet. It will walk you through the process of downloading PokerStars' software; of opening a free PokerStars account and ultimately of opening a real money account and becoming a PokerStar yourself.
Why play poker at PokerStars?
Just a few lines about why playing poker at PokerStars would be a good decision. If you already have done a fair bit of 'best online poker room' research, then go ahead and skip this part. If you are still in doubt whether or not PokerStars would be a good online poker room for you to play at then maybe the following list can take some of these doubts away:
PokerStars is the biggest online poker room on the internet with on average around 30.000 active cash game players (and many tournament players). This is almost twice as much as its nearest competitor (Full Tilt) and this allows you to choose from a lot of available games at any time of the day.

Because there are so many players at PokerStars you can always find a profitable game with players worse than you are.

Everybody who starts playing for real money at PokerStars automatically benefits from their generous VIP-program: by accumulating player points you can save for items or cash bonuses from their point store.

PokerStars' software is among the best available, if not the best software out there.

Support at PokerStars is very good. They're always there to help you if you are experiencing problems of any kind.

And last but not least, depositing and cashing out at PokerStars will be quick and reliable.
Still not sure? Maybe reading the PokerStars review can do something about that.
PokerStars download
The only way to open an account at PokerStars is to first download the PokerStars software. To do so you have to visit their website:
On the PokerStars website you will find a button that either says 'Download', Play Poker 'click here' or something similar. If you click on any of those buttons you will be asked to run or save the file. Both options are fine. If you save the file, then open it as soon as the download is complete. It is called 'PokerStarsInstall.exe'. If you run the file, it will be opened automatically once the download is complete.
There's not much to explain about the setup wizard really. Choose your preferred language, agree with the license agreement (of course you read every letter of it before you do so ;-)) and choose express install or, if you would like to choose another location to install the software on your hard drive, custom install. Click install, wait a moment and click 'finish' with the 'Launch PokerStars' box checked.
Close the ad that pops up and you will see the lobby of PokerStars: onto the next step!
Opening a PokerStars account
To open a free PokerStars account that doesn't require you to deposit any money simply follow these steps:
In the lobby from the menu at the top click 'Account' and then 'Create account…'.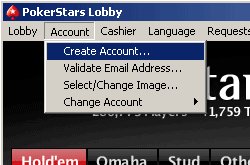 In the screen that pops up you have to fill in your User ID and a password. Some tips:
Your user ID or nickname is the name which other people will see when you join them at a poker table. You can't change this name in the future, so you might want take a moment to think of a name you really like. Also make sure you don't forget it for the next time you want to log in.

A strong password contains a combination of numbers, symbols, lowercase and uppercase letters. Don't use a password that is just a single common word.

Don't save your password on your computer. This way you'll know for sure that nobody can access your password without you knowing. You can better just write it down on a piece of paper and keep it somewhere safe.
After you have chosen a nickname and a strong password you can go on to the next screen where you have to fill in your details. You'll see that some fields are optional, but if you plan on playing for real money then eventually you'll have to fill them in anyway. Make sure your details are filled in correctly, especially your e-mail address as that is where PokerStars will send you an e-mail verification code for you to validate your e-mail address.
On the next screen PokerStars would like to know if their marketing campaign has worked and so they'll ask you how you've heard of them. You could let them know you came from FirstTimePokerPlayer by entering 'PSP11861' in the marketing code field at the bottom, but for your account that won't make any difference at all.
Once you have filled in all the forms PokerStars will send the e-mail validation code to the e-mail address you've given to them. From the lobby, when you go to 'Account' and then 'Validate e-mail address…' you can enter this code below your user ID and click 'ok'.
That's it, congratulations! You are now ready to play poker for free at PokerStars. You never have to deposit any money if you don't want to. Your free PokerStars account will stay right where it is!
Further reading at First Time Poker Player: